Vanderhall announces the arrival of a 100% electric buggy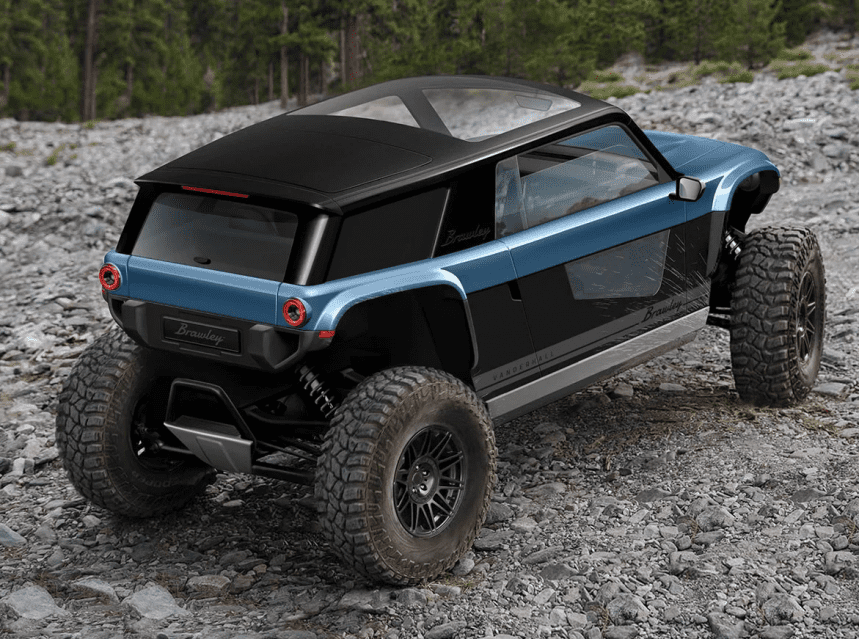 Three-wheeler specialist Vanderhall is investing in electrics and announcing the arrival of a new all-terrain vehicle.
Jeep Wrangler, Land Rover Defender or Mercedes Class G are not yet electric. To go have fun in silence in the dunes, fields or forests, Vanderhall will quickly offer the Brawley, an electric buggy with a delicious look.
Function taking precedence over style, the Vanderhal Brawley presents itself with a (very) high body on wheels, notably marked by the wing extensions and almost non-existent overhangs, to the benefit of the angles of approach and leak. It sits on 18-inch wheels shod with large studded tires.
The interior is diametrically opposed to the roughness of the exterior styling. The dashboard could not be more refined and three dials face the driver. The whole is bathed in light thanks to the glass surfaces, which can also be found at the bottom of the doors.
On the mechanical side, the Vanderhall Brawley is fitted with four electric motors (one on each wheel). The GTS version announces a total power of 410 hp for 651 Nm of torque. On the battery side, the manufacturer is announcing a homemade unit made up of NMC cells (Nickel, Manganese, Cobalt). The capacity has not been communicated, but the range is announced at 322 km. Like the brand's tricycles, the Vanderhall Brawley may never officially see the light of day in Europe.
SIGNUP FOR OUR NEWSLETTER:
Sign up to receive email updates on new posts