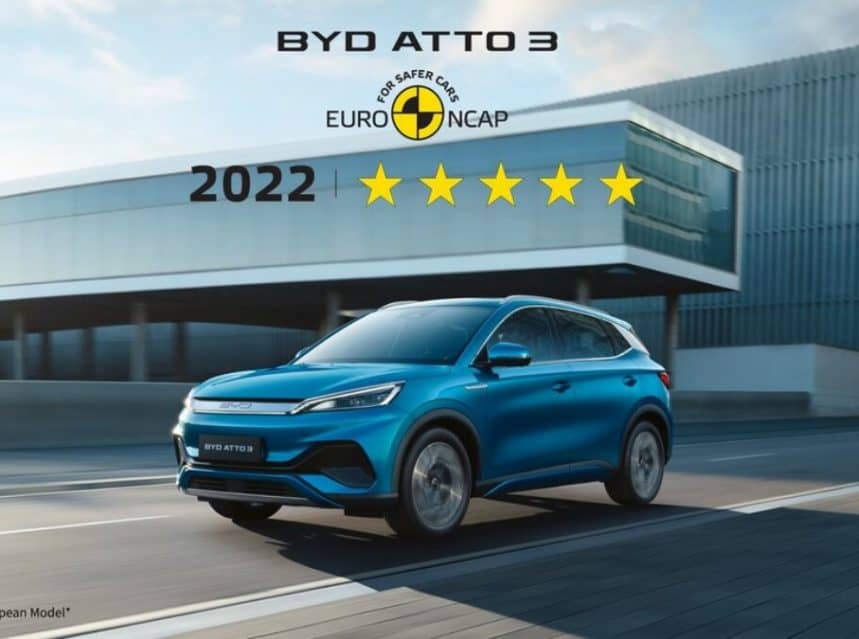 BYD proves that Chinese manufacturers come with high-level vehicles in terms of safety.
The European body Euro NCAP has published new crash test results with the BYD Atto 3. The Chinese manufacturer intends to break into Europe with this compact electric SUV. It is now available in market.
Customers will be able to forget the prejudices about safety on board Chinese vehicles. The BYD Atto 3 received very good ratings from Euro NCAP, with the famous overall score of 5 stars. In terms of adult protection, the score is 91%, which is better than the new BMW X1, which just scored 86%! For the protection of children, the result is 89%, on a par with German. This BYD also had all the points for the crash part, the lost points are at the level of the endowment in fixings of seats for children.
The Atto 3 scored lower for protecting vulnerable road users, with pedestrians particularly at risk in a frontal impact. Emergency braking also failed in reverse. But forward, it performed well against pedestrians, cyclists and vehicles. The score for driving assistance is thus 74%, which is in the low average of the latest results.
But the Atto 3 therefore protects its occupants well, which is the most important thing. BYD does better than European manufacturers. In the same round of ratings, the Citroën C5 X only got four stars! Chinese firms have understood the importance of this security aspect to gain notoriety in Europe. And the very good results are linked for them. A few weeks ago, the Ora Funky Cat and the Way Coffee 01 had excellent ratings.
SIGNUP FOR OUR NEWSLETTER:
Sign up to receive email updates on new posts